Pastoral Staff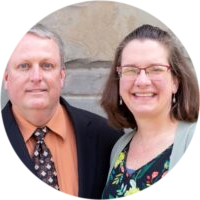 Mitch Reed has been the pastor of EGCC since 2020. He and his wife Cheryl moved to the area from southeastern Ohio with their three children right around the time when Covid hit. Two of the kids are now at Burnt Hills High School, with one at a SUNY college. Cheryl is a math teacher in one of the local Middle Schools.
Pastor Mitch is an ordained pastor in the Conservative Congregational Christian Conference (the 4 C's). He completed his Masters of Divinity at Ashland Theological Seminary in Ashland Ohio. Mitch spent his early years of ministry working for Young Life, an outreach ministry to teenagers. His first assignment was to start Young Life in a new area, the small town of Cambridge Ohio. Since then, Mitch has served in churches in different parts of Ohio and was originally ordained in 2006. The move to upstate NY was his first opportunity to live and do ministry in a different state. Cheryl has also worked in ministry, and started an outreach to Teenage Moms in Zanesville Ohio through YoungLives (an offshoot of Young Life). Since coming to Glenville, she has returned to her roots as a math teacher. Mitch & Cheryl and the family are currently working on the Fire Tower Challenge to do 23 hikes in the Adirondack and Catskill Mountains.
Youth Director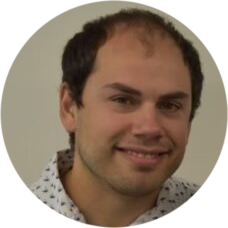 My name is Nicholas (Nick) Feliciano. I am in my late twenties and am very passionate about Jesus, teens, and baseball. I felt called to full time ministry after being very involved in ministry in my church and around the world during my senior year of High School. I then pursued my Youth Pastoral degree at Clarks Summit University where I earned my bachelor's degree in Bible Science.
After a year of waiting on the Lord, He led me from Delaware to East Glenville Community Church. I have seen God work through my passions in ministry and baseball and use those passions to serve Him in various ministries, countries, and churches. The Word of God is the most powerful tool to impact the heart and soul of people. I fully believe that and have experienced it.
My desire for every teen in the student ministry is to have a strong understand of who God is, to know that they are loved by the God of the universe, and to understanding what God asks of us is not to hinder us from having a good life, but to have the most abundant life! This goes for students' lives academically, physically, spiritually. God always has the best intentions for their lives.
The students play such a significant part of the Body of Christ and the sooner they recognize that the better! They have such a great opportunity to impact the Kingdom if they are willing, and my hope is to point them to the cross. God can take their passions and use them for His Kingdom. He can take each and every student's life and turn their worlds upside down for Christ.
And when they experience that, my hope is they will want more. I want to be able to empower them in their schools, their communities, clubs, sports teams, and around the world to realize that they are free from their past sin and free to share that gift with the world!
Director of Worship Ministries
Chantelle began serving as Interim Director of Worship Ministries in September 2021 and was officially named Director in May 2022. She has been attending East Glenville Community Church since 2011. Chantelle accompanied the choir in 2012 and was hired as choir accompanist in 2013. Along with playing with the choir, she joined the worship team playing keys and piano and singing vocals. Playing piano, accompanying choirs and singing has been a lifelong joy for Chantelle as she started as a young child in children's choirs. She began to play for church services at 11 years old in her small hometown church in northern NY and continued in various churches throughout the country, to include Georgia and Colorado.
Chantelle's goal each week is to lead a singing church in songs rich in the truths of God's Word and the Gospel; that each person be filled with scripture and truth to equip them for the week ahead; that the character and goodness of God is praised and glorified.
Chantelle also works part-time as a pediatric physical therapist and earned her doctorate in physical therapy in 2006. Chantelle lives locally with her two teenage sons.
Director of Children's Ministries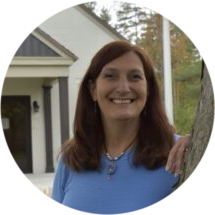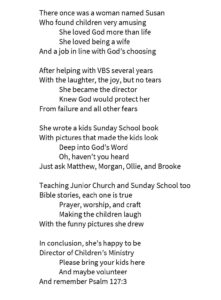 Director of Preschool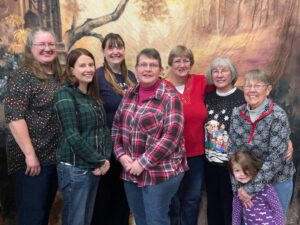 Linda has been a member of East Glenville Community Church since 1976 and has worked at East Glenville Christian Preschool since 1987. She has served as Director of the preschool for more than 15 years. Her goal is to help plant seeds of faith in children so, as they grow, they know God loves them. Linda and her staff accomplish this through Bible stories, prayer and play, all of which takes place in an environment of caring, love and acceptance. Linda credits her caring committed staff for helping prepare little ones to succeed in kindergarten and beyond. Linda and her husband, Ken, live in Scotia and have three children, seven grandchildren and four great grandchildren.