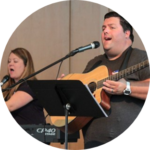 Our Worship Team is a group of deeply committed vocal and instrumental musicians and sound and media techs who love worshiping God and serving together. Our purpose is to help EGCC worship in an inspiring and God exalting way.
We also have a lot of fun! Right now we are preparing for a new season and welcoming new members. We'd love to have you join us! If you have any questions or would like more information contact
Sandie Wanamaker
.
Choir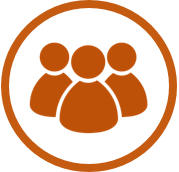 If you love to praise the Lord in song, we invite you to come and see what we're all about! Musical training is not required. The most important qualification is having a heart for Christ centered, God glorifying worship! Along with learning songs of praise, the choir supports and cares for one another through prayer and fellowship each week. If you're new to the church, it's a great way to get to know people. Our Fall Kick-Off will be at 6:45 pm on September 18 in the sanctuary. Choir rehearsals are part of Wednesday Night Alive and go from 6:45–8:15 pm. We would love to see you there!
Worship Team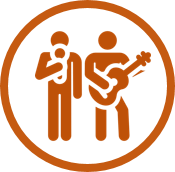 The EGCC Worship Team is a group of dedicated and committed musicians who come together weekly on Thursday nights to prepare to lead our Sunday morning worship. If you play the cello, banjo, or mandolin we would be especially excited to have you join us! Currently we could also use more drummers, guitar and keyboard players, and vocalists who have been gifted by the Lord to lead. The team also grows through monthly studies and times of prayer and fellowship. It is open to experienced musicians by audition.
Praise Gang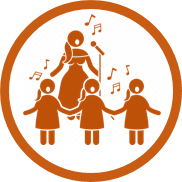 Boys and girls who are entering Kindergarten, up to & including 5th grade, are invited to join Praise Gang, our children's choir ministry. Our weekly rehearsals are held in the preschool wing of the church from 6:45 to 7:45 on Wednesday evening.
Praise Gang is a unique ministry giving kids the opportunity to serve their church family through their participation in the worship service , as well as build on their choral and musical skills. On top of that, the boys and girls grow in their relationship with God and with their friends, through prayer and the singing of Scripture-based songs. We're always looking for new members!
Tech Team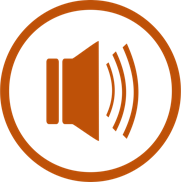 It takes a great volunteer team of sound, lighting, and media technicians working together to produce our worship services and support the various events at East Glenville. If you have skill or aptitude in sound, lighting or media this is a great opportunity to serve! Training and mentoring are provided.
Videography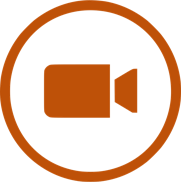 This fall we will be using a video camera to record and enhance our service. If you have any experience in videography we would love to talk to you about being part of our team!